Ryan M. Powers
Post-doctoral Associate with the Leitner Program at Yale University's MacMillan Center
ABOUT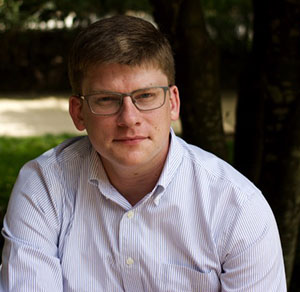 I am a Post-doctoral Associate with the Leitner Program in International and Comparative Political Economy at the Whitney and Betty MacMillan Center for International and Area Studies at Yale University. I received my Ph.D. in Political Science from the University of Wisconsin–Madison in 2017.
I specialize in international relations and comparative politics. My research interests include public opinion on trade and other aspects of globalization, international trade agreements, foreign aid, and international organizations.
My research is published or forthcoming in International Organization, Security Studies, and World Development. I have also published a number of pieces in Foreign Policy and on the The Monkey Cage.
I have received outside support for my research from the National Science Foundation, the Carnegie Corporation of New York, and the MacArthur Foundation.
I am affiliated with the Institute for the Theory and Practice of International Relations at the College of William & Mary as a Principal Investigator on the Teaching, Research and International Policy (TRIP) Project.
CURRICULUM VITAE
RESEARCH
Refereed Articles

"Is International Relations a Global Discipline? Hegemony, Insularity, and Diversity in the Field," (with Daniel Maliniak, Susan Peterson, and Michael J. Tierney), forthcoming in Security Studies.
"The Gender Citation Gap in International Relations." 2013. International Organization, 67(4): 889-922 (with Daniel Maliniak and Barbra F. Walter). Media coverage: The Economist, Inside Higher Ed, Chronicle of Higher Education, and The Monkey Cage.
"More Dollars than Sense: Refining Our Knowledge of Development Finance Using AidData." 2011. World Development, 39:1891–1906 (with Michael J. Tierney, Daniel L. Nielson, Darren G. Hawkins, J. Timmons Roberts, Michael G. Findley, Bradley Parks, Sven E. Wilson, and Rob Hicks).

Edited Volume

The Theory–Practice Divide in International Relations (co-edited with Daniel Maliniak, Susan Peterson, and Michael J. Tierney), under review at Oxford University Press.

Contributors: Paul Avey, Dmitri Demekas, Mike Desch, Scott Edwards, Peter Feaver, Mike Findley, Jessica Green, Thomas Hale, John R. Harvey, Sarah Kreps, Marc Levy, Ed Mansfield, Sarah Mendelson, Amanda Murdie, Tom Pepinsky, Jon Pevehouse, Steven Radelet, Christina Schneider, David Steinberg, Jessica Weeks, Joseph Young, and Robert Zoellick.

Research in Progress

"Economic Anxiety and Trade Policy Preferences." (under review)
"Public Opinion, International Commitments, and the Supply-side of Trade Protection."
"International Status and Presidential Approval" (with Jonathan Renshon).
"The Unipolar Fallacy: Common Agency, American Interests, and the International Financial Institutions" (with Mark Copelovitch, Daniel Nielson, and Michael J. Tierney).
"Veto Players and Conditional Commitment to U.N. Human Rights Agreements" (with Patrick Kearney).

TEACHING

Lecturer, PS 359: Problems in American Foreign Policy, Summer 2016 and Summer 2017.
Teaching Assistant for Professor Andrew Kydd, PS 377: Nuclear Weapons and World Politics, Spring 2016.
Teaching Assistant for Mark Copelovitch, PS 371: International Political Economy, Summer 2012, Summer 2013, and Summer 2015.

OTHER WRITING UTILITIES