Ryan M. Powers
ABOUT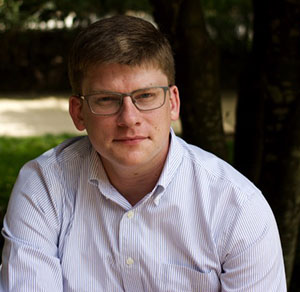 I am a Ph.D. candidate in the Department of Political Science at the University of Wisconsin–Madison. I specialize in international relations and comparative politics. My research interests include public opinion on trade and other aspects of globalization, international trade agreements, foreign aid, and international organizations.
My research is published in International Organization and World Development. I have also published a number of pieces in Foreign Policy and The Monkey Cage.
I have received outside support for my research from the National Science Foundation, the Carnegie Corporation of New York, and the MacArthur Foundation.
I am affiliated with the Institute for the Theory and Practice of International Relations at the College of William & Mary as a Principal Investigator on the Teaching, Research and International Policy (TRIP) Project.
CURRICULUM VITAE
DISSERTATION RESEARCH
Macroprotectionism: The Causes and Consequences of Temporal Variation in Mass Trade Preferences.
Public support for trade openness can change substantially over relatively short periods of time. I document this variation and show that it has politically and economically important effects on the level of protection that policy makers supply to import-competing industries. In the first half of the project, I argue that support for trade openness varies over time as a result of changes in the relative salience of the cross-cutting effects of trade liberalization: access to a wider variety of less costly consumer goods and the displacement of workers as a result of increased competition from abroad. I test this argument using observational and experimental survey data at the individual and aggregate levels.
In the second half of the project, I argue that this variation in public opinion shapes the context in which policy makers and import-competing interests bargain over trade policy. When the public is relatively more sympathetic to protectionist interests, protection is less costly for policy makers to supply and for import-competing interests to secure. I test this argument using data on temporary trade barriers in the U.S. since the creation of the World Trade Organization. I show that firms seeking temporary trade protection are more likely to secure it when the public is broadly skeptical of trade openness and that trade barriers approved in these protectionist moments are more likely to be challenged at the WTO than those approved when the public is less protectionist. This implies that policy makers are more willing to risk violating standing international trade policy commitments in the presence of a sympathetic audience. Together, these findings suggest that the public plays a more important and dynamic role in the political economy of trade policy than is generally appreciated.
Committee
PEER-REVIEWED PUBLICATIONS
"The Gender Citation Gap in International Relations." 2013. International Organization, 67(4): 889-922 (with Daniel Maliniak and Barbra F. Walter). Media coverage: The Economist, Inside Higher Ed, Chronicle of Higher Education, and The Monkey Cage.
"More Dollars than Sense: Refining Our Knowledge of Development Finance Using AidData." 2011. World Development, 39:1891–1906 (with Michael J. Tierney, Daniel L. Nielson, Darren G. Hawkins, J. Timmons Roberts, Michael G. Findley, Bradley Parks, Sven E. Wilson, and Rob Hicks).
RESEARCH UNDER REVIEW
"Public Opinion, International Commitments, and the Supply-side of Trade Protection."
"The Global Study of International Relations," (with Daniel Maliniak, Susan Peterson, and Michael J. Tierney).
RESEARCH IN PROGRESS
"Economic Anxiety and Trade Policy Preferences."
"International Status and Presidential Approval" (with Jonathan Renshon).
"The Unipolar Fallacy: Common Agency, American Interests, and the International Financial Institutions" (with Mark Copelovitch, Daniel Nielson, and Michael J. Tierney).
"Veto Players and Conditional Commitment to U.N. Human Rights Agreements" (with Patrick Kearney).
TEACHING
Lecturer, PS 359: Problems in American Foreign Policy, Summer 2016.
Teaching Assistant, PS 371: International Political Economy, Summer 2012, Summer 2013, and Summer 2015 for Professor Mark Copelovitch.
OTHER PUBLICATIONS
UTILITIES